---
Updates in progress!
Please email PAHBEvents@umbc.edu for more information about rental opportunities at the PAHB
---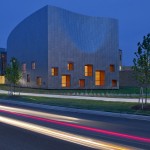 The Performing Arts & Humanities building provides state-of-the-art performance facilities for the UMBC Department of Theatre, Music, and Dance. Along with the performance venues there are numerous classrooms, studios, and conference rooms that make the PAHB a great choice for conferences.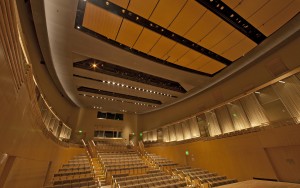 Earl and Darielle Linehan Concert Hall
The Concert Hall is a medium sized orchestral hall which resonates beautifully with any ensemble. It is well suited for large choral and instrumental performances such as the Department of Music's Camerata and Symphony Orchestra. It also easily accommodates both intimate performances and special events.
Maximum Seating: 365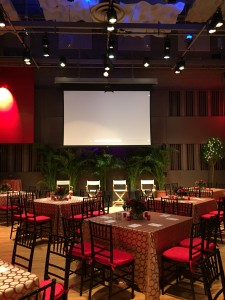 Music Box
The Music Box is a practice and smaller performance space equipped with AV equipment, two projectors, and lighting capabilities.
Maximum Seating: 75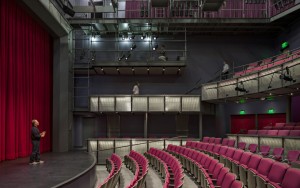 Proscenium Theatre
With a full-height stage house, 51 line sets, front of house catwalks, a forestage grid, and a complete complement of lighting, sound, and projection equipment, the Proscenium Theater is equipped to handle most any theatrical production. The curtain can also be closed for special events.
Maximum Seating: 250
The Black Box Theatre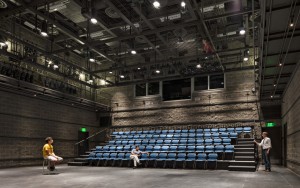 Black Box Theatre
The Black Box Theatre is a blank slate that can be configured in multiple end stage, thrust, and arena layouts. The tension wire grid that runs the extent of the room makes technical support easy for any configuration imaginable.
Maximum Seating: 100/flexible
Theater Rehearsal Studio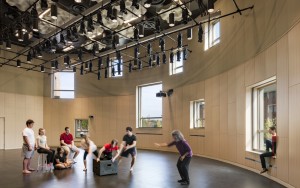 Theatre Rehearsal Space
The Theatre Rehearsal Studio is also designed as a performance, rehearsal, and teaching space. This room is large enough to replicate the footprint of the main proscenium theatre's stage, making it perfect for rehearsals. Platforms and loose chairs can be configured for end-stage, thrust, or arena transforming the room into a performance space.
Maximum Seating: 80/Flexible
Dance Cube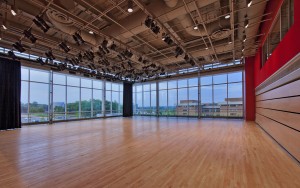 Dance Cube
The Dance Cube has two glass walls with a view of Baltimore, a basket-weave sprung floor, and retractable risers that allow the space to be converted into a performance venue. It is fully equipped with state of the art lighting and AV systems. The Department of Dance presents most shows in this space.
Maximum Seating: 100
Dance Technology Studio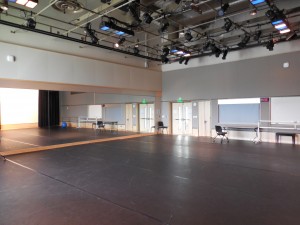 Dance Technology Studio
The Dance Technology Studio has a basket-weave sprung floor, flexible theatrical lighting, an AV system with surround sound, a large cyclorama and a green screen for video shoots. It is used for dance classes, rehearsals, and projects involving internet streaming, multimedia, and other innovative technologies.
Maximum Seating: 75/Flexible